Turkey is situated at a biogeographically important transition territory with a number of endemic flora and fauna far exceeding the totals in Europe. Beysehir Lake, one of the important wetlands of Turkey, is heavily influenced by anthropogenic pollution sources arising from residential and agricultural areas. Wetlands surrounding the Beysehir Lake and its 33 small islands are very important for breeding and migrating birds
Beysehir (Beyşehir) Lake National Park located at the southwest of Konya Province is the Turkey's largest closed watershed with an overall area of 88.750 ha. Beysehir Lake National Park is located within the district boundaries of Beysehir of the province Konya. It is 94 km to Konya and 105 km to Isparta.
There are several creeks and streams coming from Dedegol (Dedegöl) Mountain at the west and springs from the Sultan Mountain at the east feeding the Beysehir Lake. The lake has several "protection statues"; it is declared as a Class A Ramsar Site Wetland and two areas namely Lake Beysehir itself and Kizildag (Kızıldağ) are designated as National Park.
Surrounded by mountains with snowy peaks all seasons, Beysehir is the third largest lake of Anatolia. With Esrefoglu (Eşrefoğlu) Mosque, Kubadabad Palace and Eflatunpinar Monument, it is a cultural treasure in the bosom of nature, nesting a historical heritage. Situated within the folds of Middle Taurus Mountains in the Turkish Lakeland, Lake Beysehir is a closed basin surrounded by Erenler Mountains to the east and Sultan Mountains to the north. Beysehir lake is swimmable and its shores are full of hotels, restaurants, cafes and parks. Beysehir Lake National Park is an important area in terms of eco-tourism. People coming from nearby villages are selling their cheese, milk, butter, eggs and fresh mountain herbs. The witness of numerous civilizations from Hittites to the Seljuks and Ottomans, it is a wonderful destination for autumn getaways.
The flowery shores of Beysehir Lake National Park are very beautiful during morning hours. Beysehir Bridge stands right in front of us with its 15 arches. Built between 1908 – 1914 as part of the regulator and dam system, this interesting bridge stands on 14 pillars.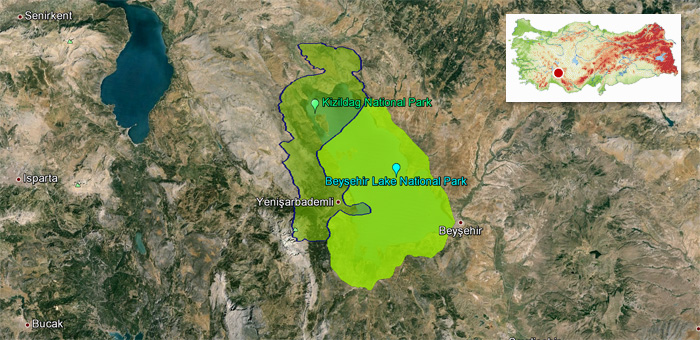 Beysehir Lake National Park Map