Turkey has 15 properties inscribed in the UNESCO World Heritage List, and 37 nominated properties are in the tentative list. This publication is prepared by the Directorate General for Promotion of the Ministry of Culture and Tourism. It aims to promote the sites inscribed in the UNESCO World Heritage List, and raise awareness in transferring Turkey's cultural heritage to future generations.
UNESCO World Heritage Sites in Turkey
Goreme National Park and the Rock Sites of Cappadocia
Great Mosque and Hospital of Divriği
Historic Areas of Istanbul
Hattusha: the Hittite Capital
Mount Nemrut
Hierapolis-Pamukkale
Xanthos-Letoon
City of Safranbolu
Archaeological Site of Troy
Selimiye Mosque and its Social Complex
Neolithic Site of Çatalhöyük
Bursa and Cumalıkızık: the Birth of the Ottoman Empire
Pergamon and its Multi-Layered Cultural Landscape
Diyarbakir Fortress and Hevsel Gardens Cultural Landscape
Ephesus
Heritage is our legacy from the past, what we live with today, and what we pass on to future generations. Our cultural and natural heritage are both irreplaceable sources of life and inspiration. The World Heritage Fund was created in 1972 by the World Heritage Convention. Its purpose is to assist States Parties in identifying, preserving and promoting World Heritage sites.
UNESCO World Heritage Sites in Turkey Map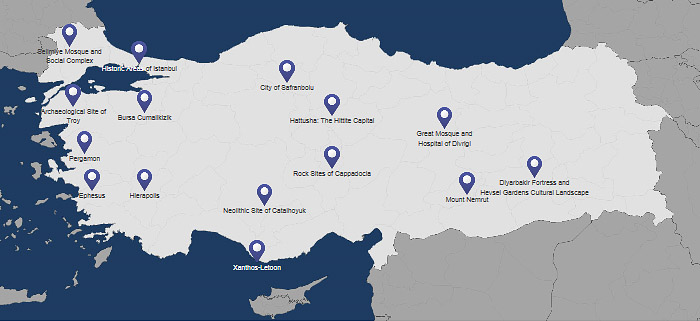 List Of National Parks In Turkey
Map Of National Parks in Turkey
National Parks of Turkey on Google Earth
Turkey Road Map