The Black Sea region begins east of Istanbul in Bolu, whose centerpiece is Yedigoller (Yedigöller) or Seven Lakes National Park. With a climate that produces multi-colored forests of oak, alder, pine and hazelnut, the park entices visitors to travel through all four seasons of the year within the course of a short drive. Explorers can also discover hot springs, hiking and walking opportunities and, in winter, one of Turkey's best ski centers.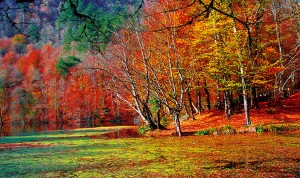 The land covered with many kinds of different trees and herbs. Yedigoller is an amazingly important place for those who interested in lake fishing. Moreover as a result of effective protection of plant and animal life, the animals inside the park like deer, pigs, wolves, foxes and squirrels are increasing in number.
The view is amazingly enchanting from Kapankaya peak in the Yedigoller National Park. From that point with a little walking you can view the deer protection area. While you do your camping daily picnics, trekking and photographing you could accommodate yourself in bungalows and guesthouses which are in the national park.
Yedigoller National Park offers visitors to watch closely the beauty of the wildlife and rich landscape. The trees are painted with the most impressive red, yellow and green colors in autumn. Therefore autumn may be the best season to visit the national park. One can always enjoy the silence of nature and feel absolute serenity here.
Activities
Nature photography and painting, exploring the seven lakes and rich flora, angling, hiking and camping, fishing salmon trout Seven Lakes,
Seven Lakes (Yedigoller) consist of seven small lakes. The names of these lakes are Buyukgol, Deringol, Seringol, Nazligol, Sazligol, Incegol and Kucukgol.
Area Profile
Regional Office: 9th District (Ankara), Province: Bolu, Town: Mengen, Coverage Area: 1.623 Hectares, Coordinates: 40°50'41.80" N – 31°35'26.16" E, Height: 900 m.
Yedigoller National Park, in the north of Bolu province and south of Zonguldak province in the Black Sea Region, declared in 1965 as a national park, covers of 1.623 hectares. Yedigoller National Park which is 42 km away from the north of Bolu, can be reached via the Yenicaga road, 152 km off the Ankara – Istanbul highway. Please note that the Bolu – Yedigoller route is closed during winter, which means transport is only available via the Yenicaga – Mengen – Yazicik road.
National park is absolutely breathtaking. There are handcrafted bridges, a small waterfall and fountains overflowing with fresh, cold water from the stream that passes through the park. Lakes are charming simply because they are undeveloped and are never crowded with cars, buses or people.
source: goturkeytourism.com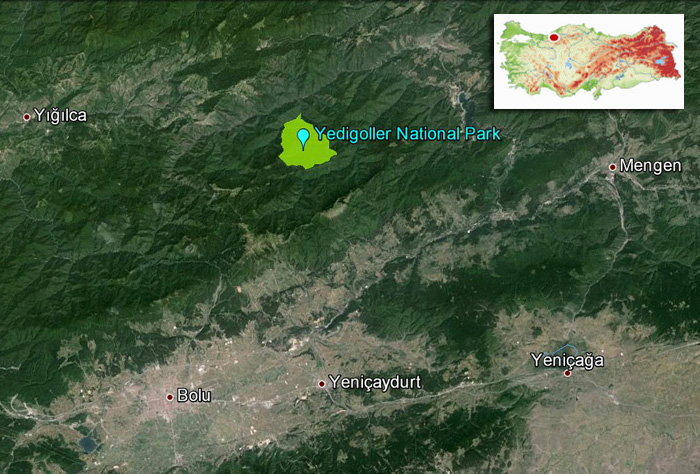 Yedigoller National Park Map