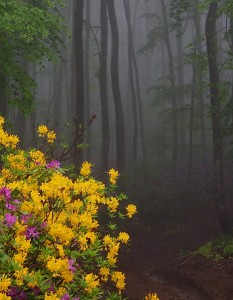 Kure Mountains National Park is a gift to the earth from Turkey with its intact forests, wildlife, endemic plant species, caves, canyons, waterfalls, geologic features, traditional life and architecture. Kure (Küre) Mountains National Park located in Bartin and Kastamonu provinces, is globally important for nature conservation. It is one of the 9 forest hot spots in Turkey with its natural values, wilderness, geological features, landscape and cultural values. It is Turkey's eco-tourism center. Since 2000, it is one of the 41 national parks in the Turkey's protected area system. In and around the national park, there are 930 plant taxa, 129 bird, 48 mammal, 8 reptile and 9 amphibian species.
There are nearly 100 caves in the region, exact location is mapped. According to experts, this site is a national park of caves and canyons.
Kure Mountains National Park, declared in 2000 as a national park, covers of 37.753 hectares. The park lies between Kastamonu and Bartin, in the Black Sea Region. Kure Mountains start from Bartin River on the west and runs 300 kilometers on to Kizilirmak (Kızılırmak) River toward the east. Also known as Isfendiyar Mountains, the mountain range is adjacent to Black Sea on the north and Gokirmak (Gökırmak) on the south.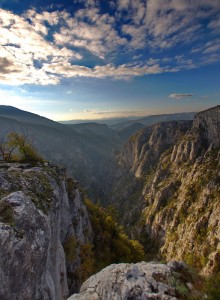 Kure (Küre) Mountains National Park borders have been designated with a participatory approach. There are nearly 120 villages in the buffer zone. This buffer zone is unique for Turkey and is the most important tool for protection and effective management of the national park.
To protect the nature and traditional life styles and for sustainability, state institutions, nongovernmental organizations and local people have been working in collaboration with. With its buffer zone and participation level of local people in nature protection, the national park has become one of the most successful examples of nature protection and natural resource management in Turkey.
All these features make Kure Mountains National Park to be listed in global and national places must seen before you die. It is waiting for you to experience 4 seasons tale. Kure Mountains National Park has also Pan Parks Certificate.
Kure (Küre) Mountains is a remarkable place not only with its plants and animals, but also with the variety of the habitats of these species. Let alone its wildlife riches, Küre's habitat and landscape richness, natural forests, caves, canyons, waterfalls, geological qualities, traditional culture and agriculture are more than enough to fulfill the national park criteria.
Activities
Natural old forests, exploring biodiversity and wildlife, geological and geomorphological formations, cultural and archaeological remains,
Valla Canyon, Horma Canyon, Ilgarini Cave, Aydos Canyon, Ilica Waterfall, hiking and trekking.
Area Profile
Regional Office: 10th District (Sinop), Provinces: Kastamonu, Bartin, Towns: Pinarbasi, Cide, Senpazar, Ulus, Coverage Area: 37.753 Hectares
Coordinates: 41°40'03.90" N – 33°08'29.20" E, Height: 500 m.
History and Culture
Xenophon, 2400 years ago, says that, transportation at the interiors of the region is very difficult, while sea travel is considerably easier: "I think this route is not only troublesome, but also impossible to go through."
The written history of the region starts with the Hittites. Then Phrygians and Lydians rule the region. The Persians capture Küre Mountains in the 4th century BC. After that Alexander the Great conquers the region. During the1st century BC, the Pontus Kingdom takes control. Back then, the region was known as Paphlagonia. After the Roman Empire, Byzantium starts ruling by 395 BC.
Ecosystems
Kure (Küre) Mountains National Park, with its absolute and buffer zones, is a part of the Euxin section of Europe-Siberia plant geography. The forest ecosystem of the national park that is located on a karst belt is dominated by pure or hybrid, coniferous or deciduous trees. Due to certain reasons, some empty patches exist in the forest. At these parts herbaceous and bushy plants are more dominant than ligneous species. In other words, combination of different ecological factors resulted in different types of ecosystems in Küre Mountains National Park.
Animals
Kure (Küre) Mountains National Park's biological importance is bound to the fact that it offers different habitats for different animals. 48 out of 160 mammal species that live in Turkey, including wild cat (Felis sylvestris), otter (Lutra lutra), brown bear (Ursus arctos) and Cervus elaphus, can be found here.
As for birds, 129 different species were documented until now. Among these, egyptian vulture (Neophron percnopterus) is a globally endangered species. High cliffs with wide valleys are proper habitats for vultures, falcons, eagles and night raptorials. However, the area is also important for waterfowls that breed and spend the night by the seashore, and for temperate zone forest species.
Mammalian Species List of Küre Mountains National Park
Amphibian and Reptile Species List of Küre Mountains National Park
Invertebrate Species List of Küre Mountains National Park
Bird Species List of Küre Mountains National Park
Plants
As it is a rich area in terms of ligneous taxa, the National Park is an important area for other plants. The number of herbaceous and bushy plants increases on empty patches that exist in the forest and results in utmost biological diversity. The number of the plant taxons documented in Küre Mountains National Park is 930. 157 of these species are endemic and 59 of the endemic species are in red list.
Plant Species List of Küre Mountains National Park
Canyon crossing
Exploring the amazing canyon system of the Küre Mountains National Park comes to our mind as one of the best adventures you could have while visiting this Turkish wilderness. While it can be a great adventure discovering these canyons, just remember that passing through requires professional knowledge, talent and technical equipment.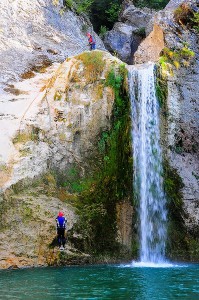 Observing waterfalls
Magnificent waterfalls contribute to the stunning wild beauty of this park. The most well-known of these is Ilıca Waterfall, located near Ilica village, is a main summer attraction. In the secluded thick forests of Kurucasile you'll find the Gölderesi Waterfall and in Bartin the scenic Ulukaya Waterfall.
Cave exploration
If you have a particular interest in caves and speleology, than you are in the right place as in Küre Mountains you'll find around 100 caves, the second biggest number of caves in a national park, right after "Carsbad Caverns National Park" in the US.
The most well-known cave within the national park is Ilgarini Cave in Kastamonu. The cave, which is 858 m long and 250 m deep, is home to an ancient settlement, supposedly from Roman-Byzantium times.
The best season for trekking is between May and November. During the winter the region is snowbound and silently beautiful.
source: goturkeytourism.com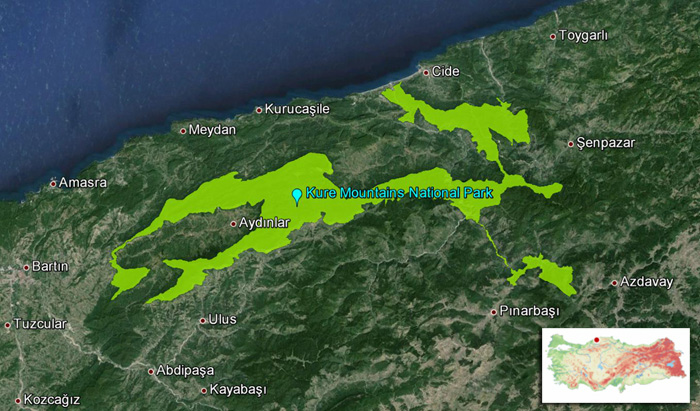 Kure Mountains National Park Map